The day we left for Yosemite, Austin and I both had colds. We wanted to leave at 10, to arrive before dark. We had laundry to do and had to stop on the way out to buy long underwear and gloves. We left around
2:30
, which, in retrospect, seems like an accomplishment.
The day we left for Yosemite, the local automotive stores did not carry chains. So we had to stop for those too, but in Tracy, not San Jose.
We were supposed to have all day Saturday to run these errands. We were supposed to leave Sunday. But as our weekend approached, I watched the weather reports predict snow. Then a lot of snow. All day. We didn't grow up with snow. I didn't want to drive up a narrow mountain pass in 5-8 inches of snow. So I changed our reservation to drive up Saturday. And this meant we ran a ton of errands and drove up in the dark, but it was so worth it to wake up to this:


Austin said it was the best vacation he ever had.
Bobcat!
We also took a field trip Sunday to the Awahnee Hotel. I've always wanted to see it because it's where they filmed The Shining.
Yup, it looks just like that.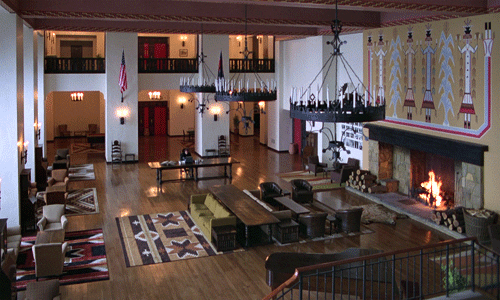 We had brunch! Everyone was just shockingly nice.
When we were finishing up, the waiter brought each child a bag, with matching forest ranger duckies.


Come play with us...
Even the bus drivers and passengers on the bus were super nice, letting our kids sit when there was no room, playing games with them, pointing out coyotes as we drove through the park...